Web conferencing vendors must have been saving up their news announcements over the Memorial Day holiday! Today I saw three new announcements:
1) omNovia announced support for Hebrew in their platform. Yes, the entire display changes to a right-to-left direction. Even the controls and time markings in the chat area get flipped from their "Western language" positions. You can see from the following picture that omNovia sticks with the more universal Arabic digits for numbers, which is common practice in Israel for business. The traditional Hebrew numbering system relies on values assigned to letters and would be a nightmare to use in place of standard time codes and so on.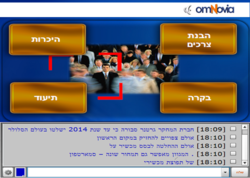 Support for Hebrew is still rare in the web conferencing industry, so if you do a lot of business in Israel, omNovia could be a big help.
2) PGi released a new version of their GlobalMeet conferencing software. GlobalMeet 3.0 adds an iPad app, desktop software to simplify working with meetings and content, VoIP audio, full screen desktop sharing, and cloud-based content management for meeting materials.
3) PresenterNet sent out an email communication letting users know that they can embed live web presentations on their Facebook pages with a new "PresenterNet for Facebook" app. The software is available at http://apps.facebook.com/presenternet
And as long as we're here, I'll throw in one more article even though the news isn't quite as fresh as the other three. Tim Siglin wrote up a nice little summary of new features in TalkPoint's "Convey" webcasting platform.
Convey was announced two weeks ago, and I didn't give it the mention it deserved at the time. I like the customizable tabs that let attendees see various pieces of information during a conference, such as bios or other web sites. I like the fact that recorded playback allows inclusion of bookmarks to positions in the playback stream so you don't have to guess at a minute and second mark to find content of interest. And I like the customizability of emails and landing pages.